Home | Gun Safe Reviews | Buyers Guide | About | Cannon Gun Safe Reviews | Liberty Safe Reviews | Winchester Gun Safe Reviews | Pistol Safe Reviews
Gun Safe Reviews – Our Complete Guide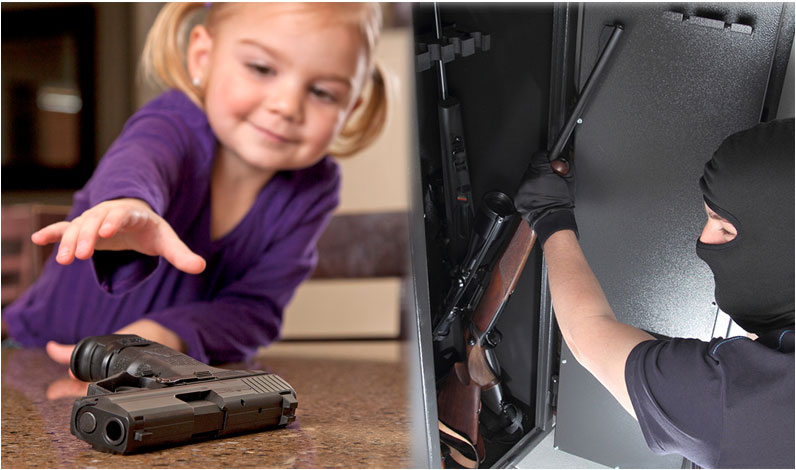 It's frighting to think what could happen if your child or a burglar gets their hands on your firearm(s). Using a secure gun safe is one of the easiest and best things you can do to improve you and your family's safety.
This review will guide you through the maze of countless gun safe options available, to help you make the best choice.
3 Essential Reasons You Need A Gun Safe
If you own a firearm and are still on the fence about purchasing a gun safe, the reasons below should make clear sense for any parent or responsible adult.
1 Legal Requirement
There are several states that make it illegal not to have your firearms stored in a gun safe. This means you could be fined or face jail time, simply for not having your gun locked up. The list of states can be found here.
This makes a lot of sense considering over 16,000 individuals in the United States are treated each year in hospital emergency rooms for unintentional gunshot wounds.
2 Children
We can't always keep an eye on our kids, and leaving them to find it somewhere in the house could be devastating. A 1991 study found that 8% of accidental shooting deaths resulted from shots fired by children under the age of six.
In addition, the U.S. General Accounting Office has estimated that 31% of accidental deaths caused by firearms might be prevented by the addition of two devices: a child-proof safety lock and a "loading indicator," (a device that lets you know if the gun is loaded).
3 Theft
You also have to worry about theft. Unsecured firearms are easy targets for thieves, which they may later sell or even worse use against you or your family. Securing something you have paid hundreds or even thousands for makes a lot of sense.
Will Any Safe Do The Job?
In our experience, it is better to choose a safe designed for guns vs a standard safe for documents. Small gun safes allow you to access your handguns quickly, whilst larger gun safes provided solid break-in and fire protection.
But don't be fooled, there are many bad gun safes that are worse than regular safes. They will tell you their safe is "secure", but can be broken in with a straw (yes, a drinking straw), paperclip, and other household items.
Luckily for you we have personally reviewed hundreds of safes and if they don't meet our high standards, you won't find them here.
Recommended Gun Safe Retailer

Our recommended retailer is gunsafes.com. They have the biggest online collection we have seen, free delivery, and the best brands in the gun safe industry. Not to mention regular deals and discounts for customers.
Our second choice is amazon.com. They don't have the best selection of gun safes but still have some good options for lower end gun safes.
Best Handgun Safes
Below you'll find our top picks for handgun safes, priced between $40 – $300.
1 Top Pick – GunVault GV1000C-DLX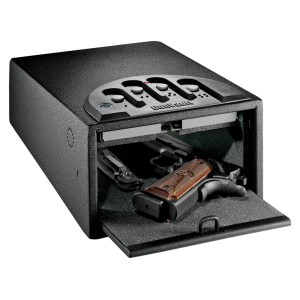 Our top pick is the GunVault GV1000C-DLX. This safe is our all around favorite: quick access, strong constructions, portable, and at a great price. It even has an inbuilt motion detector to alert you of tampering. Utilizes 16-gauge steel and a high strength lock mechanism.
#2 Fast Access – GunVault SV500 Speedvault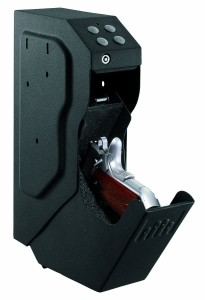 If fast access if your priority then there is no better than the SV500. This can be discreetly mounted in numerous ways such as under a desk or table. It's 18-gauge steel construction will keep your gun secure whilst still allowing fast access. The foam lining interior will also ensure your gun doesn't get scratched.
#3 Best Features – The Gun Box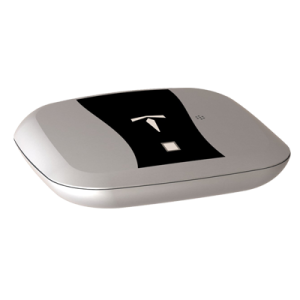 If you want the latest tech and don't mind paying extra for it, then we recommend The Gun Box. This sleek gun safe uses the latest biometric technology to give you quick and easy access. It's aircraft strength aluminum and slim design make it both secure and portable.
#4 Budget Option – GunVault NV200 NanoVault 200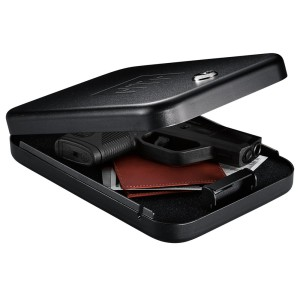 If you're on a tight budget, then the GunVault NV200 is a good choice. It has enough room for one handgun and small documents. It's size makes it very portable, whilst it's 18-gauge steel construction offers good protection.
Best Standard Gun Safes
Below you'll find our top picks for standard gun safes, priced between $500 – $2000.
#1 Top Pick – Winchester R19 Ranger Deluxe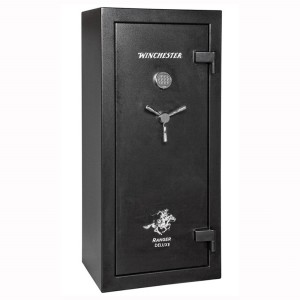 Our top pick is the Winchester R19 Ranger Deluxe and for good reason. This safe offers some of the best features for a fraction of most other safes, whilst being of superb quality. It has a sizable 24 gun capacity and is well built with: 10 steel locking bolts, 12 Gauge body construction, and an impressive 1 hour fire rating.
#2 Big Capacity – Bighorn 6039ELX/MLX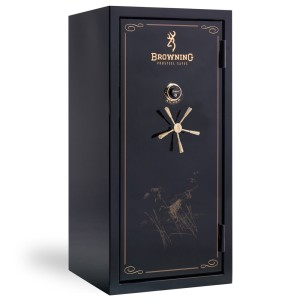 The Browning SR26F is one of our favorites with beautiful craftsmanship. This modern safe is custom made for you, so you can customize the front scene/marking, color design, lock and much more. Key specs: 11 Gauge body, 16 locking bolts, and a 100 minute fire protection.
#4 Budget Option – Barska AX11898 Biometric Rifle Safe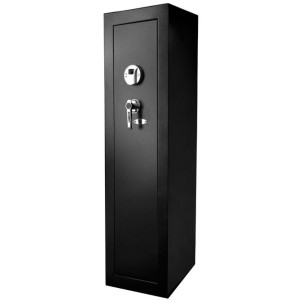 If you don't have many firearms to store and aren't looking to spend much, then the Barska AX11898 is a good choice. It has a modern design, and utilizes the latest biometric technology. Other options around the same price range include the Stack-On SS-10-MG-C and Steelwater 16 Gun Safe.
Best Premium Gun Safes
Our favorite brand for high end safes is Browning for a few reasons: excellent build quality, modern design, very customizable to fit your needs, and pass high gun safe standards. Prices start from $2500 for these safes.
#1 – 2016 Browning M28F Medallion Series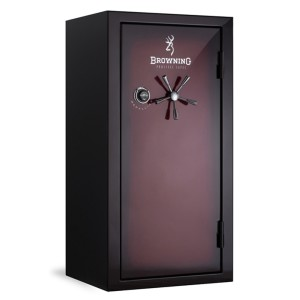 The Browning M28F is one of the best looking safes we have seen. Incorporates Browning's signature shelving construction which keeps your safe organized. Key specs include: 29 gun capacity, 18 thick 1 1/4″ bolts, 10 Gauge steel, and 110 minute fire resistance at 1700 degrees.
#2 – 2016 Browning M40F Medallion Series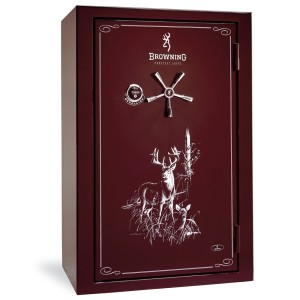 The Browning M40F is the big brother of the M28F. It can can comfortably hold up to 43 guns, whilst still having the solid build quality of the M28F. Key specs include: 18 thick 1 1/4″ bolts, 10 Gauge steel, and 110 minute fire resistance at 1700 degrees.
#3 – 2016 Browning PP52F Platinum Plus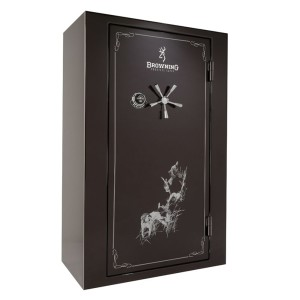 The Browning PP52F is one of their most premium gun safes. For the higher price tag you get an overall more secure safe with: 28 thick 1 1/2″ bolts, a 3/16″ thick steel body, and greater fire resistance at 1750 degrees for 120 minutes. It is able to hold up to 43 guns.
What Makes a Good Gun Safe?
It is obliviously important to want a safe that effectively protects your firearms and other possessions from burglars, children, and fires. However some safes are much better at doing these than others, which are simply marketed well but really don't deliver.
There are a number of standards that indicate how secure or fire resistant a safe really is. Here are key ratings for gun safes in the United States:
UL RSC (Residential Security Container) – This is a certificate that is given to gun safes which are given once tested by Underwriters Laboratories (UL). This rating indicates the security of the safe when faced against forced entry. Different grades of the certificate indicate how secure a safe is.
UL Fireproof Classification – Gun safes that state they are fireproof are also given a rating by UL and again there are various ratings for this. The safes are rated based on how long they can keep the contents below a certain temperature e.g. "350-1 hour" will mean the inside of the safe won't get hotter than 350 degrees Fahrenheit for 1 hour.
California Department of Justice (DOJ) Regulatory Gun Safe Standards – Provides a set of standards such as thickness of steel locking bolts, drill resistant lock, thickness of steel walls, and protection of door hinges. Not as rigorous requirements as UL RSC standards, but should provide decent protection.
The above should make it clear that you want to buy a safe that has been properly tested and meets reliable and trusted standards of either security, fire resistance, or both.
Why Not All Gun Safes Are Created Equal
Just because the gun safe manufacturer claims it has high security, a "secure" locking system, with reinforced steel, it doesn't mean it can't be broken into with simply a pry bar, or even a screwdriver. Even if the safe has a thick metal door if it has flaws elsewhere i.e. in its locking system, then it really isn't going to keep your firearms and other belongings safe.
Other things to look for is if it has anchor holes (to bolt it down), quality of welding, door gap (to prevent easy prying), lock security, and fire rating. The safes we have recommended in these gun safe reviews have many of these features, if not all.
Does paying more for a safe mean better quality? Not always. Many safes are marketed to look "secure" with fancy features, but when it comes to actual security they are weak, and you are really only paying for a better looking safe.
Other Features To Look For
You may also want to consider other features a safe might have, such as: adjustable shelving, door pockets, power in, ethernet, and digital locking. Many safes are now also incorporating biometrics, but these can be unreliable on cheaper safes.
Gun Safe Reviews Summary
There are a lot of great safes available and equally poor ones. The key thing to look for is if they have been tested by reputable organization to ensure they can really back up their claims.
If you enjoyed these gun safe reviews we have a number of more specific gun safe reviews you can checkout using the links below.
You may also be interested in…
American Gun Safes
Cannon Gun Safe Reviews
Liberty Safe Reviews
Stack On Gun Safe Reviews
Winchester Gun Safe Reviews
Sentry Gun Safe Reviews
Pistol Safe Reviews
Biometric Gun Safe Reviews
Leave a Reply
Your email address will not be published. Required fields are marked *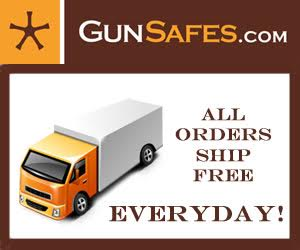 ABOUT US

As gun safe enthusiasts we found many people had a hard time choosing a solid safe, that keeps your guns safe from burglars, fires, and your kids.
We have compared hundreds of safes to help you make the best decision. Check out our reviews or read our in-depth buyers guide.
COMMENTS
terry on Cannon Gun Safe Reviews